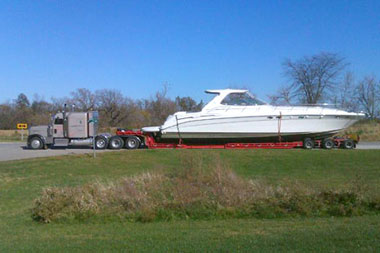 About Us
We are located at the beautiful Lake of the Ozarks, Missouri in the heart of America and are family owned and operated. Our drivers come with the highest qualifications and knowledge to transport your boat safely and professionally. They will make sure your yacht or boat is supported, balanced, stabilized and secured by doing a complete inspection of your boat or yacht prior to loading and again at offloading. We offer a variety of services. Please browse our site or contact us with any questions.
Marine Service Company provides complete transportation services across the country. We are equipped to handle boats and yachts from 27 feet to 70 feet, houseboats up to 70 feet, water load and launch boats and yachts up to 55 feet, and complete yacht transportation from start to finish. We do complete teardown and reassembly of yachts, if needed, for transportation.
We are equipped with three semi tractors and five specialized boat transporting trailers. Our friendly and professional staff will safely and precisely coordinate all the steps to transporting your boat or yacht to its destination. We are fully licensed and insured in all 48 states. We carry up to $1,000,000 insurance on your boat or yacht during transportation.